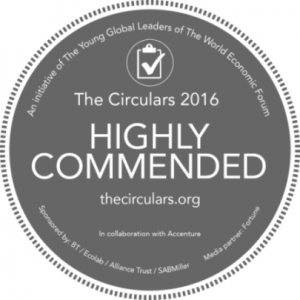 November 24, 2016 2:49 pm
Circulars Award 2016
The World Economic Forum Young Global Leaders Circular Economy Taskforce recognized Delta M Incorporated as a Highly Commended entry in the Entrepreneur category for The Circulars 2016.
The Circulars, the world's premier circular economy award program, offers recognition to individuals and organizations from across the globe that have made a notable contribution to driving circular economy principles – where growth doesn't depend on the use of scarce natural resources.
The judges were extremely impressed with Delta M's efforts to design with circularity in mind.  The panel really liked the focus on extending product lifecycles and praised the fact that Delta M has a strong and scalable business model.
Delta M will be featured in The Circulars 2016 'Yearbook'
For more information, media contact is Amy Delfino at (888) 511.9983 or visit http://www.deltaminc.com
For more information about The Circulars, visit https://thecirculars.org/