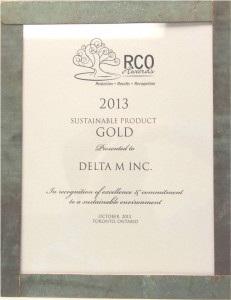 October 21, 2013 2:41 pm
RCO Gold Award – 2013
The World's leading recyclable filter company, Delta M Incorporated has been awarded a gold sustainable product award at the annual Recycling Council of Ontario (RCO) Awards.
This award recognizes outstanding performance from products or services that improve the management of resources, reduce waste, and minimize negative environmental impact over their life cycle.
More than 220 representatives from Ontario businesses and institutions gathered at the Awards Gala which was held this year at the Liberty Grand in Toronto. Various awards were delivered to the province's leaders and innovators in environmental sustainability.
"We are honoured to be recognized for our product innovation and our commitment to the environment," says Anders Bygden, Vice President of Sales and Marketing who was on hand to receive the award on behalf of Delta M Incorporated.
This isn't the first time that Delta M received recognition for its environmental innovation in the HVAC filtration industry. Earlier this year Delta M was awarded the 2013 Earth Charter US Award for sustainable innovation, making them the first air filtration company to have received the award.
This is the third time that Delta M has received recognition from RCO for its contributions to environmental sustainability, having been awarded both Silver and Bronze awards previously.
For more information on Delta M Incorporated products, please visit www.deltaminc.com.
For further information, media contact is Amy Delfino at (888) 511.9983