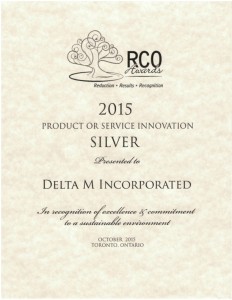 October 21, 2015 2:46 pm
RCO Silver Product Innovation Award 2016
The world's leading recyclable filter company, Delta M Incorporated has been awarded a silver product or service innovation award for their new VALUE Line air filter at the annual Recycling Council of Ontario (RCO) Awards.
This award recognizes outstanding performance from products or services that improve the management of resources, reduce waste, and minimize negative environmental impact over their life cycle.

Award participants from Ontario businesses and institutions gathered at the Allstream Centre in Toronto to celebrate each other's achievements. Various awards were delivered at this ceremony to the province's leaders and innovators in environmental sustainability.
This is the fourth time that Delta M has received recognition from RCO for its contributions to environmental sustainability, having been awarded Gold, Silver and Bronze awards previously.
For more information on Delta M Incorporated products, please visit www.deltaminc.com.
For further information, media contact is Amy Delfino at (888) 511.9983